Posts: 133
Joined: Sat Dec 13, 2014 10:48 am
Species: trout/salmon
I've been on a self-imposed quarantine having just returned from a business to the southeast Urals in Russia and it was wearing thin on me and my wife - when she, less than subtly suggested I go fishing, I need no more prompting.
When I rolled into the launch yesterday morning, I was surprised to see eight other boat trailers – I've never seen more than four on previous trips – apparently a lot of people needed to go fishing.
I launched and slowly motored out into the morning mist and sunrise, setting up rods and down riggers with visions of salmon leaping in my head.
Once set, I cranked up the Yamaha and headed north, enjoying the warmth of the sun on my back. And then it happened – Crash, crinkle, crinkle, crinkle – WHAT the ...... - I'd run into a pack of skim ice shattering it, sending bits and shards all over – the sea gulls standing on it were particularly disturbed and I should have realized that they can't stand on water! Fortunately, it was skim ice – no harm no foul.
Turning around, I set the rods as soon as I cleared the ice – a Fishy1 on the port rod and a blue/silver Speedy on the starboard and for the next 3 hours the only things that changed were the lure colors and the weather – nary a nibble as I worked down to the bridge, over in the bay and up to the pier. I was marking lots of fish, but none were hungry.
Around 11:30, I decided to head north, I picked my way around the ice and set out when I hit the 100' line. The first thing I noticed was there were no fish around; my sonar screen was white as a snow storm. 20 minutes later, conceding the point I turned south toward the launch as I passed Presbury Point, I recalled a comment Fishy made about Beaver Brook, so I turned west. At the 20' line I headed south and dropping the lines in.
Expecting more of the same, I was cleaning up the boat when I noticed the port rod bouncing up and down like a yo-yo – FISH!! Grabbing the rod, I felt the "thump-thump-thump" of a heavy fish and threw the motor in neutral. After 5 minutes of give and take, I caught sight of a very fat laker and in a few more minutes it was CPR (catch-photo-release) – a really prettyy28" laker full of smelt and alewives.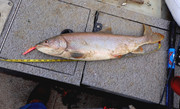 And it got better, as I was resetting the port rod, the starboard fired off and again I felt the thump of a heavy fish – another fat laker – this one however, was battle scared with lamprey hits on its' head and sides.
I did six loops and landed more 4 lakers and broke another one off over the next 35 minutes and then things went dead – but you know what – that was enough, the itch had been scratched, there was no stink on the boat and I was feeling pretty good.
Next week – April 1st – Trout or stripers????? - Terrible dilemma.
Posts: 56
Joined: Sun Jul 28, 2019 6:57 am
Species: Salmon/lake trout
The dock must be in then?! Thanks for the report.
Posts: 133
Joined: Sat Dec 13, 2014 10:48 am
Species: trout/salmon
No teh docks are not in - wear your boots
Site Admin
Posts: 4587
Joined: Sun Aug 28, 2011 7:27 pm
Species: Salmon, steelhead, brown trout
Location: Fletcher, Vt
Great report.. Glad to hear you got out and Thanks for the story... Love reading your adventures....
Matt B
---
Who is online
Users browsing this forum: No registered users and 1 guest