Posts: 63
Joined: Mon Apr 15, 2019 8:50 pm
Species: Anything we can catch
Location: Vergennes
So we're launching out of converse tomorrow morning, going to try to catch some fish aboard the "new" 1994 cold water trolling winter project. Hopefully she runs good. This is what it looks like.

[attachment=0]IMAG0811.jpg[/attachment]

Well, I did put the wheels and lower unit back on and stuff. The wind is supposed to be pretty stiff tomorrow, but, we're hoping to hide in town farm, or maybe even the new York side if it's westerly enough.
If anybody's out tomorrow give us a shout on 68. This boats called the "country angler".
Attachments

IMAG0811.jpg (92.63 KiB) Viewed 1351 times
Nice rig! Suppose to really blow tomorrow, may be interesting getting the boat back on the trailer. Good luck!
Posts: 328
Joined: Mon Dec 28, 2015 5:21 pm
Species: crappie, trout, salmon, perch
Wicked boat!
I just might see you out there. I'll be in the grey kayak, wearing a red drysuit. Good luck!
Posts: 225
Joined: Tue Aug 30, 2011 6:17 am
Species: if it swims, Iwill fish for it
Location: Websterville,Alburg
Good boat you got! I know the original owner. Lots of fish have come over her rails. Should be a great ride!
Kevin
Posts: 3195
Joined: Sun Aug 28, 2011 12:58 pm
Kev... I remember that name and boat too! Years and years ago. Older guy and fished the LCI derby in the 80's.
Posts: 63
Joined: Mon Apr 15, 2019 8:50 pm
Species: Anything we can catch
Location: Vergennes
Well, this boat has had a lot of fish come over it's rails in its 26 year life, but, we didn't add to the count yesterday. Our options were a little limited is where we could comfortably fish. It was just what the weather guy said, and south side of Thompson's and new York side were the spots out of the white caps, and we didn't find the fish there.

I bought this boat from a friend of mine who's owned it the last 13 or 14 years. He's not the original owner, but he's boated tons of fish during his watch as well being a lifetime fisherman himself.

Trip started out a little rocky, the force 150 refused to start at the launch, but after a trip up to the shop, and a spark test, it started on the hose second try. There's still some mysteries to solve with this engine. So, back to the ramp, started right up, ran perfect the whole rest of the day. The Honda kicker on the other hand, started on the second pull, I think because it's a Honda.

All of our fishing gear operated as it should have, and all of the old refreshed cannon downriggers worked good. We only ran them down 5 or 6 feet, but they went up and down.

We fished little stick baits with a split shot ahead of them a ways on the surface, on the riggers, and two colors of lead. Small spoons in a variety of colors also same rigs and depths. We also used our inline planer boards, lures probably 50 feet back, and 40 feet out. All lines except the lead were way back, 100 feet or more. Where we fished was clean water, no weeds or debris. Temperatures everywhere we were the same, 33.6 give or take a couple tenths. We did drive around in rougher areas to measure temps, the mouth of otter creek was 35, 36 degrees, spitting a bunch of junk in the lake. Very defined water color lines where the chocolate milk met the lake. We would have fished those lines, but it was windy and rough.

But, this boat can take a pretty good wave compared to our other one, and it's really nice to have a windshield.
Posts: 3556
Joined: Mon Aug 29, 2011 12:26 pm
Species: whatever crazy enough to bite
Location: Montreal
Glad you got the boat in the water and running. The fish did not collaborate this time, so you'll have to do it again.
Gecha
(Gerry North of the Border)
Posts: 63
Joined: Mon Apr 15, 2019 8:50 pm
Species: Anything we can catch
Location: Vergennes
I agree. Plus, you know a great way to practice social distancing? Go out on the lake. Liam and I have been practicing social distancing since before it was cool.
Wishing you a great fishing season up on champlain
Posts: 384
Joined: Thu Sep 01, 2011 8:17 am
Species: All
Location: North Ferrisburgh
Nice rig!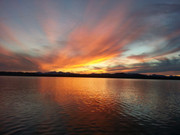 Site Admin
Posts: 4587
Joined: Sun Aug 28, 2011 7:27 pm
Species: Salmon, steelhead, brown trout
Location: Fletcher, Vt
That is a great shake down cruise... I look forward to seeing you guys out this year. If ya see Reelax on the water don't hesitate to hail us on ch68... I'll call ya on phone and give any info on hot bite I can. ( if I have any
Sounds like Liam is about to have the summer of a lifetime!
Matt B
Posts: 63
Joined: Mon Apr 15, 2019 8:50 pm
Species: Anything we can catch
Location: Vergennes
Wow, thanks Matt, that's awful nice of you. That's like getting the answers from the A student in the middle of a test! We'll be out a lot this year. No restaurants, no baseball, scouts, nothing. The lake is where to be anyway.

Jack
---
Who is online
Users browsing this forum: No registered users and 2 guests