I'm Baaaack!!!!
It's been a long 10 months and I'm happy to say me and the Money Pit are back on the water - me recovering from 4 broken ribs a cracked vertebra and collapsed lung that had me in ICU for a while last May and the Money Pit after a successful motor transplant - both long stories that fortunately ended well with minimal cost.
So with healing ribs and a new Yamaha 115 VMaxx SHO I was "scratching the itch" with my friend Troy "a newbie" Tuesday on a what most would call a perfect day.
Launched at 7:45 and immediately broke a rod - Aah, something never change - plenty of spares so NP - headed to Fishville and started at the 80 foot line - had the Fish Hawk down but had trouble finding the thermocline - worked out to 110 and started bumping 56-57 (surface was 62) at 90 ft. so ran other rods at 60 and 70 - no releases, but a few small isolated bait balls - tried the edges off Camp Dudley and Scotch Bonnet with same results, nothing.
Took a pleasure cruise up past the ledges and around Split Rock and went "lines down" in Whalon's - found a very profound break, 48F at 90 ft. and had a "hit & run" in 5 minutes - worked the 140-160 edge for another hour and finally hooked up - a real rod bender, but no thumping - "a laker" I told Troy, who really wasn't listening being more intent on reeling a "Big Ass" fish as he said.
When I finally got a look at her - I had to agree - she was a "Big Ass" fish - I was a little rusty with the net, but finally got her in the boat - 29" 13# -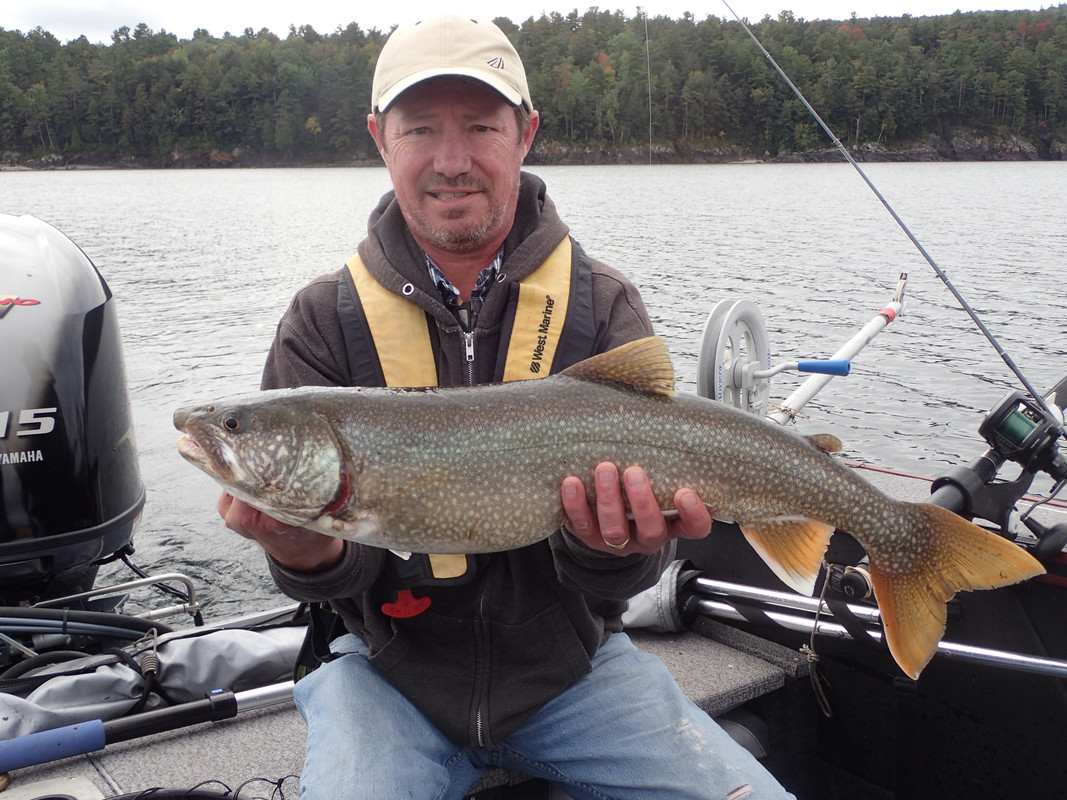 Needless to say when you catch your PB trout on your first trip on a new lake - you're happy and I was happy too!
Kept fishing in Whalon's until noon and had one more release - started working our way south and that's when Capt. Catastrophe struck - I was yapping about something and not paying attention and ran over "Ball Grabber Ledge" - I call it "Ball Grabber" because on one of must first trips back in 2004 I lost a ball there - and you know what - I lost both my balls Tuesday!
So much for more fishing - yeah, I had spares, but I can take a hint too!
It was great to be back on the lake - Troy got a PB, I scratched the itch and we got back to the dock safely - think I'll wait a couple weeks for the water to cool a little more before I give it another try - Oh and Troy is already asking when we'll go again - so I got another convert.