Posts: 2985
Joined: Sun Aug 28, 2011 12:58 pm
It's all good! We will be ready when Converse is open. Even if it's April 10th. At least it won't refreeze overnight like in March. My boat was winterized on December 22nd. One more month?
Posts: 2985
Joined: Sun Aug 28, 2011 12:58 pm
Took a walk out to the 70 ft drop-off in front of the Sandbar beach yesterday around Noon. 3 trucks out there. Two guys were setup with tip-ups. They had a few large perch that had hit the bait on the tip-ups. 24" of ice there. There were trucks in front of Cedar near the ledge that extends south of it at the end.
Posts: 355
Joined: Tue Aug 25, 2015 8:48 pm
Species: Bass,Salmon,Trout
Yeah, you don't want to be using a hand Auger at this point....
Hey Ron, nice seeing you at the boat show. That pontoon boat is pretty deluxe. 250 hp motor is kinda nuts. Seems to be a trend as there were a few other similar boats, including one with a 300 Yammy. Way beyond what I would want.
Posts: 2985
Joined: Sun Aug 28, 2011 12:58 pm
Good seeing you Paul! The performance Tri-Toon market has exploded the last 3 years and is one of the fastest growing segments of the marine industry. People want to ski and go quick from A to B like a ski boat. The third log gives amazing lift and performance + stability to the ride. Add the fact you can bring a lot of people for the ride it's a win-win. Putting a 250 hp or larger changes the whole putt putt experience of a traditional pontoon boat. Performance!
Hoping for an April launch! Instigator had a great catch of salmon yesterday on Facebook. Crushed
them!
Nice coming out of retirement to help out for 4 days at the boat show. It also was even nicer I didn't have to go back to work on Monday.
Posts: 2985
Joined: Sun Aug 28, 2011 12:58 pm
Yup..It's true 8-12" on Friday into Saturday morning then another 1-3" on Monday with lows 12 and 13F Tuesday and Wednesday. Going skiing Friday and Monday.... March is going out like a Lion! Good winter for skiing! Another two weeks for the first few spots on the main lake for open water maybe? Bulwagga and the Sea will be really late this year to open. I guess the silver lining is saving all the fuel towing the boat and fishing missing a month of fishing for us compared to 2018's first launch on March 8th.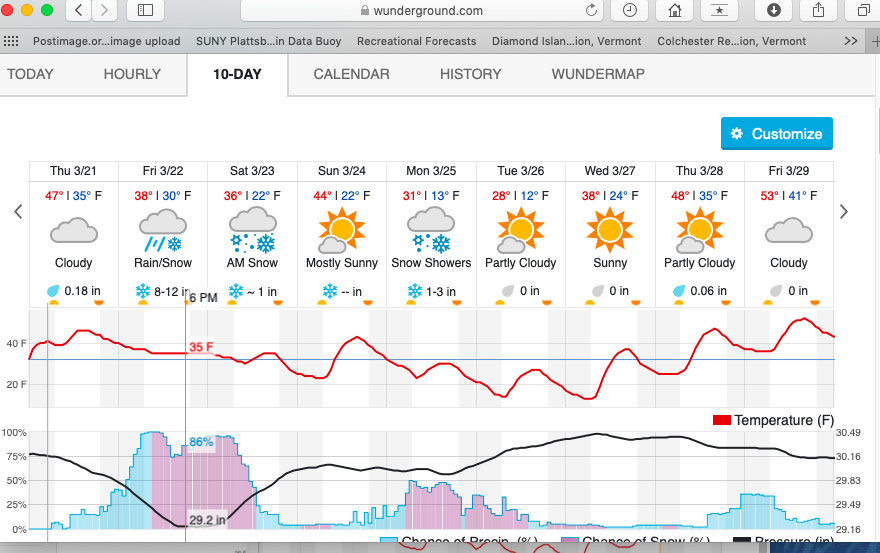 ---
Who is online
Users browsing this forum: No registered users and 3 guests