My Friend Tom Booska's Grand Son Keith had no school today and last week we planned on taking him fishing.
Well this mornings temperature merited a later start and that we did and met at 11:30 at Converse.
Loaded up S L O W L Y and launched with the Heater and defroster fan running. Headed out into the lake for Split Rock.......the breeze in the lake was enough to have us go slow enough as to not ice the deck.
Set up at 12:30 at the steel tower headed south and at the Unicorn picked up a salmon Keith's first Lake Champlain fish and Salmon, followed by two lakers. Then being a Kid we started and ate Lunch in the calm water, today Italian Meatball Soup, Apples and Kathy's Chocolate Chip Squares.
A triple with a double on one rod with slider headed north past the ball grabber. The slider clip broke open with the drop of that fish and landed two. Finished the day with two salmon by Seagull rock.
Pulled at 3:30 for a Great First outing for a New Fisherman. I Know Keith had Fun and His Grandfather Too!
At picture time Keith only wanted to hold up his Largest fish First so we have a happy boy with a Laker and one of his Salmon.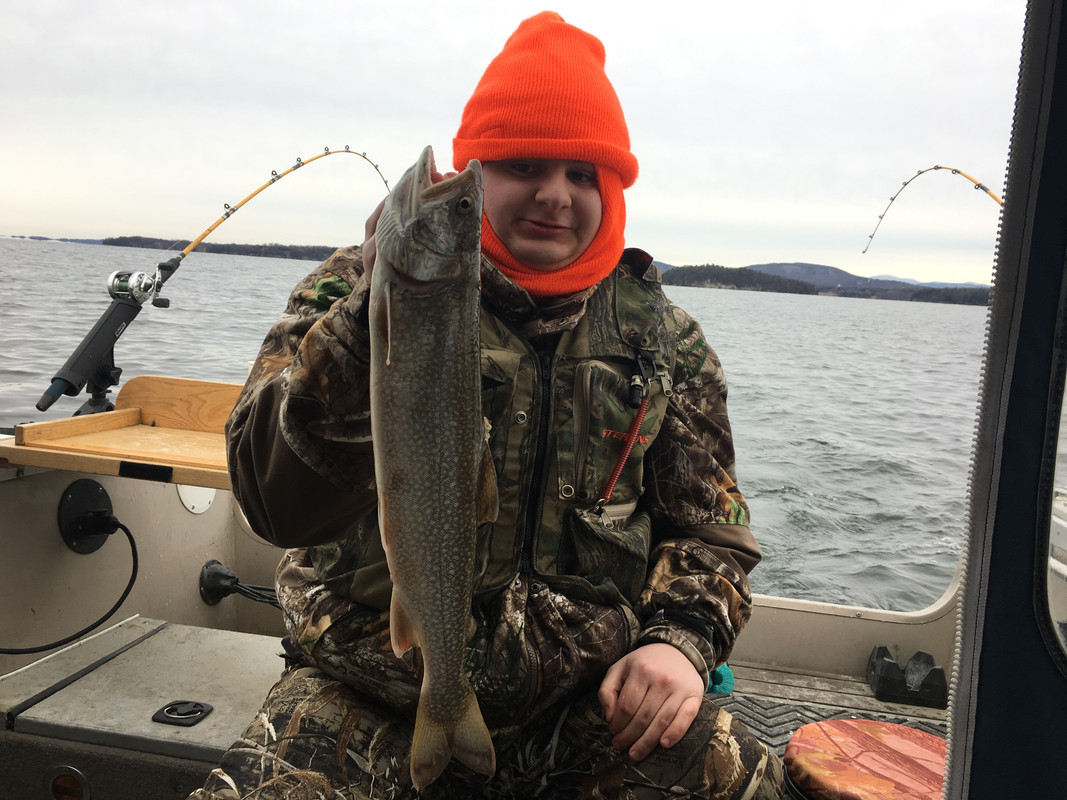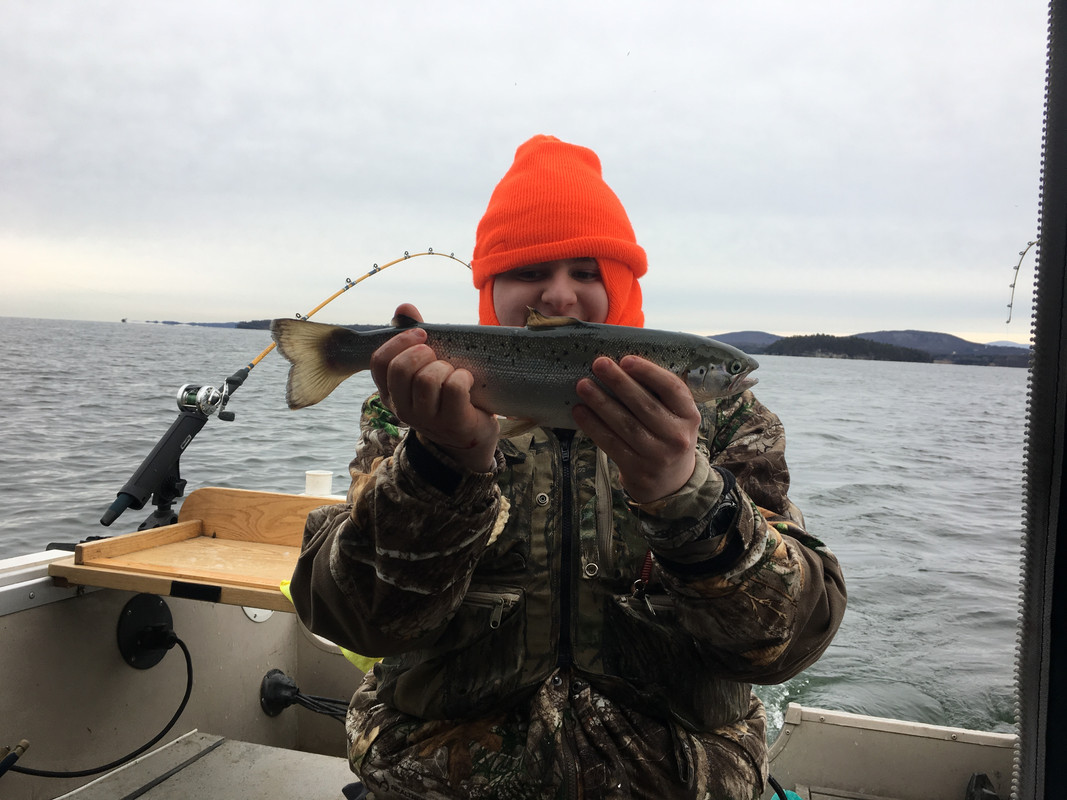 I'm off for ten days because of work but might break out this Sunday.
Water temp 39.4
Last edited by
Surprise
on Tue Jan 08, 2019 8:37 am, edited 2 times in total.
thanks for posting randy the weather was brisk. gull rock is better known to the locals as salmon rock. waiting for your next post.
Posts: 2991
Joined: Sun Aug 28, 2011 12:58 pm
New Years float doesn't get much better in January!
Posts: 105
Joined: Sat Dec 13, 2014 10:48 am
Species: trout/salmon
Ok I have seen it mentioned now like 4 times in the last few weeks... what is the unicorn?
The Unicorn? It took me two years to identify it off of radio chatter. Head south of Split Rock on the NY side, pass Ball Grabber and keep your eyes peeled. Once you see it, you'll feel stupid, like I did, but looking carefully you can't miss it! It's a Unicorn!
Site Admin
Posts: 4229
Joined: Sun Aug 28, 2011 7:27 pm
Species: Salmon, steelhead, brown trout
Location: Fletcher, Vt
Been Trollin past that double black puppy for more than a decade.. if you look close it's made of 2 sheets of steel.. he even swings in the wind! It's a converse trollers land mark just like the red canoe and bakers dock...
I wasn't going to go there, but since you did.... There is a Converse area lingo that is learned over time, and much of it is seasonal!! Heck... One of my best days ever was alongside Fat Head early spring, and it took me awhile to get him on the radio while he/we worked the canoe.
---
Who is online
Users browsing this forum: No registered users and 1 guest