Made the trip over from NH with a buddy. Was a little nervous with the events I had heard about during the past week. My thoughts go out to those families..
Once we found a safe place to get on the lake there was a good amount of ice. We had no issues with the quads.
Fishing was great! We caught 8 lakers total. 5 were over 10lbs and the best was just over 12.
The jumbo perch bite kept us very busy. Almost too busy to eat... I have caught a few here and there in the past but normally the size of the bait deters bites and/or hook ups. Not today!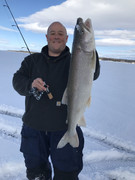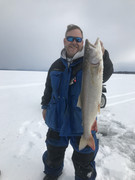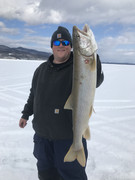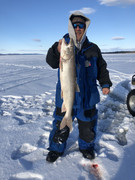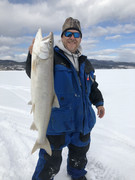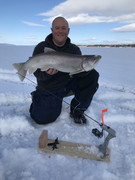 good job i saw you guys out there decided to head on other side of the big pond. those are some nice lakers and perch
Site Admin
Posts: 4574
Joined: Sun Aug 28, 2011 7:27 pm
Species: Salmon, steelhead, brown trout
Location: Fletcher, Vt
Wow.. nice showing....
Matt B
Site Admin
Posts: 4052
Joined: Sun Aug 28, 2011 6:02 am
Species: Coldwater fishes!!!
Location: LAKE CHAMPLAIN UNITED!
You guys smoked em!!!
Super nice..thanks for the report!
Catch and serve with lemon.
Gerry
Posts: 3548
Joined: Mon Aug 29, 2011 12:26 pm
Species: whatever crazy enough to bite
Location: Montreal
Beauty lakers and nice perch.
Thanks for posting. I miss being on the pond.
Gecha
(Gerry North of the Border)
Nice job Butcher. And tell everyone what a great tool this forum is for out of towners, both for help catching fish, then for showing off!
---
Who is online
Users browsing this forum: No registered users and 3 guests