Posts: 3191
Joined: Sun Aug 28, 2011 12:58 pm
Today we had a window of opportunity for my brother in law Tom to dive on a nice Friday today with gentle breezes at Split Rock NY for my Fish Hawk probe and downrigger weight hung up and lost on the bottom 8 months ago in late November. Luck would have he found it after 22 minutes underwater and it was located in 45 feet of water near a ledge and 50 feet from the anchor. We had no GPS coordinates to work from and it was all a gut feeling as I recreated our approach coming in from 200 feet of water to the area it was snagged. I should buy a lottery ticket today!. Odds were not good to find it. Visibility was only fair at best and the dark rocky bottom made it like finding a needle in a haystack. It was 57 F down 45 feet and 72F on the surface. Batteries were dry in the unit and not corroded after having been in the water 8 months submerged. Put 4 fresh batteries in and tested it as it worked fine! I have 6 segmented videos to splice together for a You Tube project video of todays dive. Pretty excited we found it.
1 of 6 You Tube videos made today. I will splice them all together of todays adventure in the near future:
https://www.youtube.com/watch?v=SG0qHw1F2Mo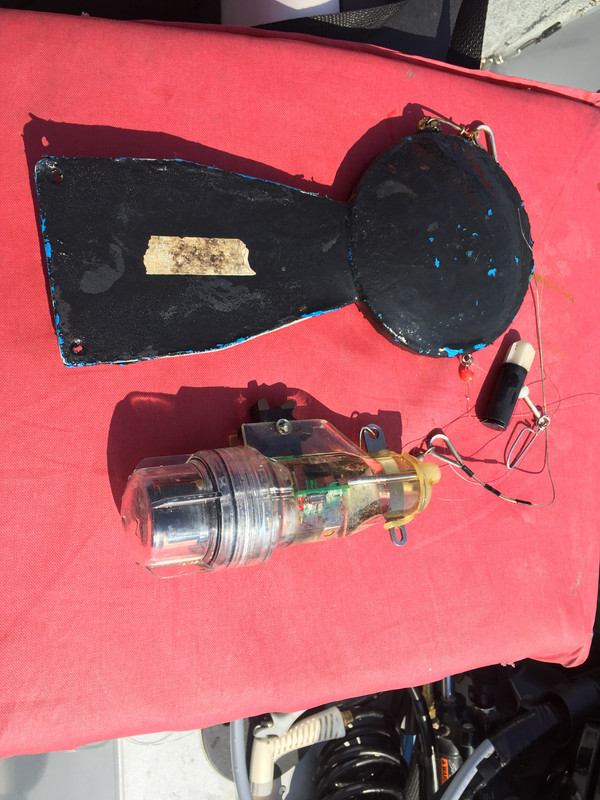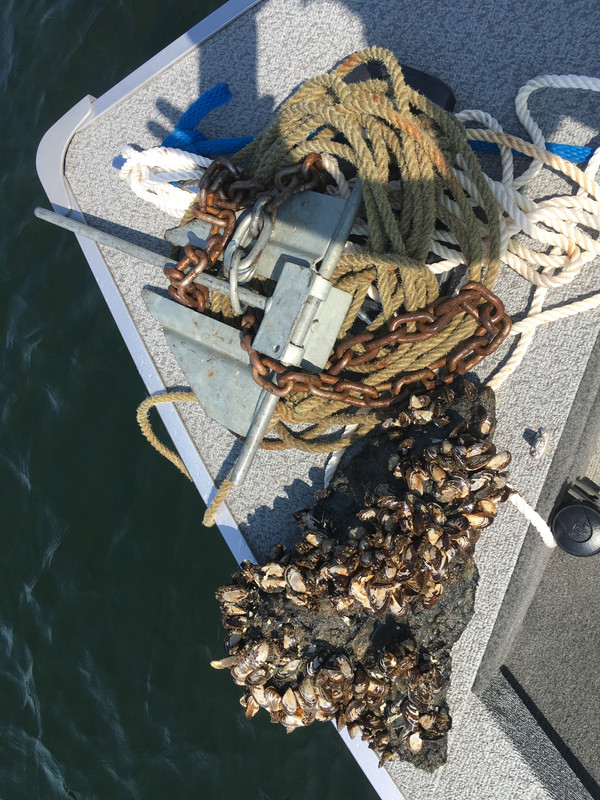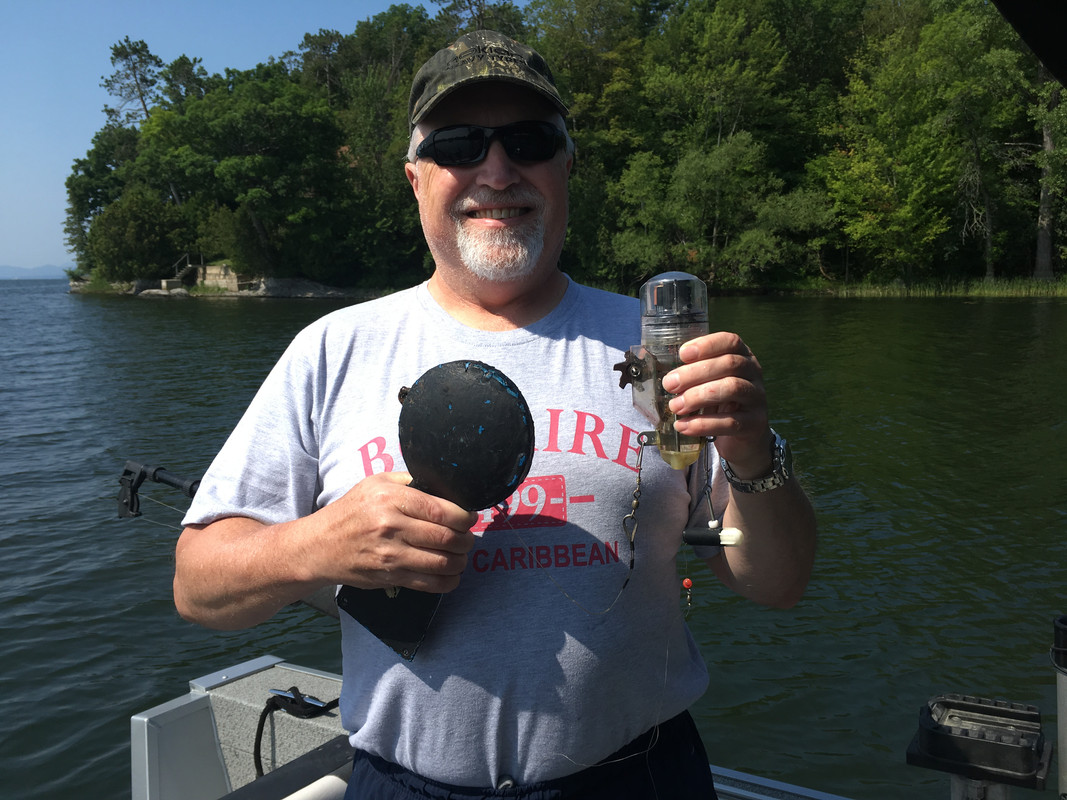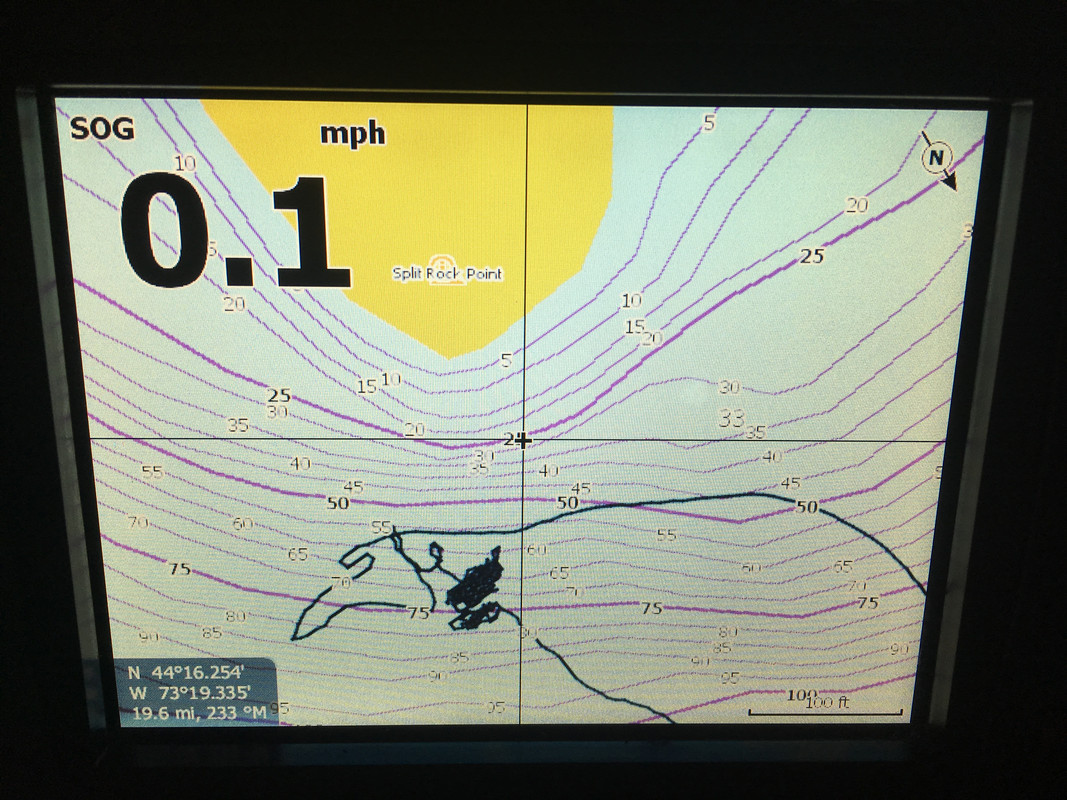 Last edited by
digitroll (ron)
on Fri Jul 26, 2019 5:07 pm, edited 3 times in total.
Posts: 3556
Joined: Mon Aug 29, 2011 12:26 pm
Species: whatever crazy enough to bite
Location: Montreal
WOW, that's a great story. Glad you got your probe and weight back.
There are many Fish Hawk probes lying at the bottom of the lake. I know of at least 3 that were lost when fishing on a boat I was on. Luckily none were mine.
Gecha
(Gerry North of the Border)
That's cool! I got one back from the depths this time last year. They are a well built machine, 10 months in the water is impressive.
Posts: 3191
Joined: Sun Aug 28, 2011 12:58 pm
Well done, Tom. I think you owe your brother-in-law something nice... I'm sure you feel the same way.

What was that mass of mussels attached to?
Tom
"Tyee, Too"
18' Lund
Posts: 3191
Joined: Sun Aug 28, 2011 12:58 pm
That was a big chunk of ledge or stone that came up with the anchor. Tom said it was a battlefield down there with crevices and chunks of stone. However, the slope leading up to the 20-30 fow was smooth.

Oddly enough he found nothing up in the 20-30 foot of water. The probe and weight was in 45 fow on another flat area.
Posts: 1189
Joined: Sun Aug 28, 2011 7:11 pm
Species: trout, salmon
Location: Granger, IN
Contact:
Amazing! Congratulations! But I do disagree with you ... you should have bought tickets for all the lottery drawings on that day!
Lures designed by fishermen for fishermen
Posts: 3191
Joined: Sun Aug 28, 2011 12:58 pm
Were still smiling Jim! A plan was cultivated 7 months ago and just had to wait for the water to warm up enough to dive / 10 am overhead sun / light chop. There was a lot of planning put into this and practice to make it feasible to get Tom out of the water with my high back and sides on my Fishmaster. The planning ie. homework paid off making this dive effortless with no issues or surprises and a bonus of a recovery in 22 minutes of diving. Dock to Dock time yesterday was 1 hour! No one plans to fail...they just fail to plan.
Posts: 3191
Joined: Sun Aug 28, 2011 12:58 pm
Posts: 525
Joined: Tue Aug 30, 2011 2:14 pm
Species: lake trout,salmon,panfish
My Boy lost one there last year on the unicorn
Posts: 328
Joined: Mon Dec 28, 2015 5:21 pm
Species: crappie, trout, salmon, perch
---
Who is online
Users browsing this forum: No registered users and 1 guest