Site Admin
Posts: 4044
Joined: Sun Aug 28, 2011 6:02 am
Species: Coldwater fishes!!!
Location: LAKE CHAMPLAIN UNITED!
New 3 day derby coming up...sign-up is at The Tackle Box Market and Deli, formerly Dockside Outdoors just off Rte 2 heading towards the Islands from Exit 17, I89.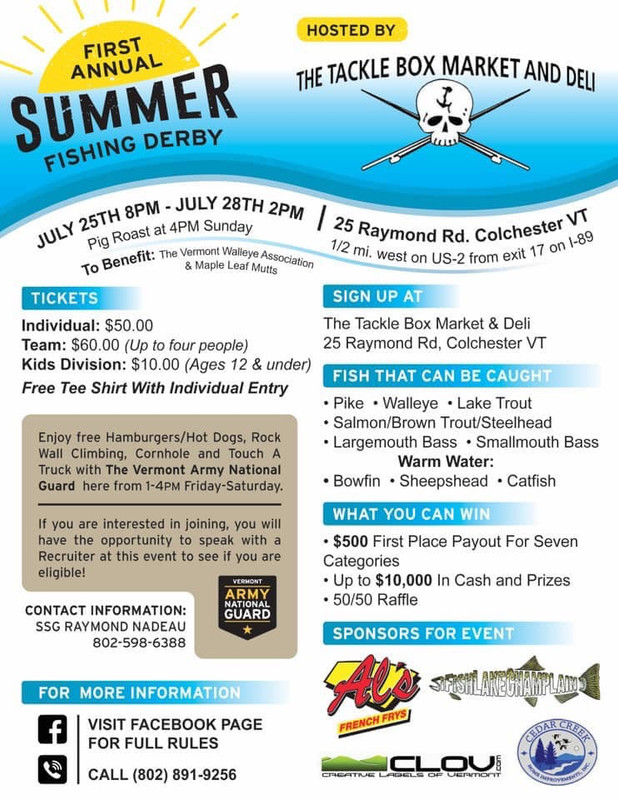 Catch and serve with lemon.
Gerry
Site Admin
Posts: 4424
Joined: Sun Aug 28, 2011 7:27 pm
Species: Salmon, steelhead, brown trout
Location: Fletcher, Vt
damn, too bad Im workin
Matt B
I'm looking forward to this derby. It's been a pretty good coldwater season thus far. Hopefully the bite will hang on a few more weeks! Thanks for posting Gerry and thanks Dustin for putting this on!
im also going to try and make this one probably be from shore though . hoping i can get into a boat by then but im not planning on it this soon. might see if my grand-daughter alayna can fish with me to. sounds like a fun weekend.
The skill you and Alayna have fishing from shore you two have a good chance on placing in this Derby. Traci and I hope you get well soon and get back to more fishing. we miss you're daly post.
for now it looks like im going to fish the derby. channel cat will be fishing and hoping alayna my son and daughter-in-law also. looks like a fun weekend.
---
Who is online
Users browsing this forum: No registered users and 1 guest