Posts: 10
Joined: Thu Nov 17, 2016 11:15 pm
Species: Sea Lamprey
Lake Champlain anglers and stakeholders:
As partners with interest in the control of sea lamprey, I wanted to share this development and the accompanying federal process with you and invite your review and comment.
Sea Lamprey wounds have improved from where they were a decade ago, but we have not been able to sustain desired wounding rate targets for lake trout and Atlantic salmon. We are continually looking for new and better ways to control sea lamprey to meet those goals of reduced lamprey wounding. While the addition of one new tributary to the program will not be the panacea in achieving reductions in lamprey wounds, it is one more step in our efforts to increase sea lamprey control where and when needed as part of our comprehensive approach to integrated pest management for sea lamprey in Lake Champlain. We are formally proposing to add a New York tributary to the program where lamprey were recently found.
As required by the National Environmental Policy Act (NEPA), a draft Environmental Assessment (EA) has been prepared which explains the intent of the Lake Champlain Fish and Wildlife Management Cooperative (New York State Department of Environmental Conservation, Vermont Fish and Wildlife Department and the U.S. Fish and Wildlife Service) to add Hoisington Brook and its delta, a tributary to Lake Champlain located in the village of Westport, NY, to the existing, federally-authorized, and state-permitted Lake Champlain Sea Lamprey Control Program. Any and all local citizens directly affected by the implementation of the proposed action will be individually notified of specific activities, pending the approval of the draft EA.
The
PRESS RELEASE
and
DRAFT EA
can be found at our
website:
https://www.fws.gov/lcfwro/sealamprey/NEPA.html
where we invite the public to provide comments on the proposed action as part of the NEPA process. You may post unofficial comments here, but only comments submitted as instructed on our website will be recorded, reviewed, and considered as part of the federal record.
Bradley Young
U.S. Fish & Wildlife Service
Lake Champlain Sea Lamprey Control Program Manager
Great news Mr. Young, thanks for sharing. I tried to submit a comment to your e-mail from the link shown above and it didn't work, so I will comment here. Most of the lake trout I caught through the ice this past winter around button bay and slightly south of there had large lamprey on them. The lamprey seemed numerous along with some fish leeches on some of the fish also. This past weekend, I caught 4 salmon in the inland sea and killed 4 lamprey that were hitching a ride on the salmon. These lamprey hadn't been attached for very long as the wound on the salmon was minor. However, it does show that there is still a lamprey problem even after the fantastic work your group does to minimize the lamprey problem. I can't imagine what the lake champlain fishery would look like if your team was not actively trying to control the lamprey. Keep up the good work and your communication on this forum. We want to help you if we can be of service.
Good news. Keep up the good work
Posts: 639
Joined: Sun Aug 28, 2011 10:00 pm
Species: Salmo Salar Sebago
Location: Burlington
Thanks Brad for the update to the LCU group. Great to hear the news first hand from one who's been on the front line of this battle for many years.
Bill
"POINTER"
Site Admin
Posts: 4471
Joined: Sun Aug 28, 2011 7:27 pm
Species: Salmon, steelhead, brown trout
Location: Fletcher, Vt
Great news... thanks for keeping us up to date. I killed a couple lampreys today.... they seem to be all 8" long where I've been fishing.
Matt B
Site Admin
Posts: 4050
Joined: Sun Aug 28, 2011 6:02 am
Species: Coldwater fishes!!!
Location: LAKE CHAMPLAIN UNITED!
Thanks Brad. I wanted to point out real quick: The email provided for you in your link isn't working. It tries to open a non-existing web page vs. email.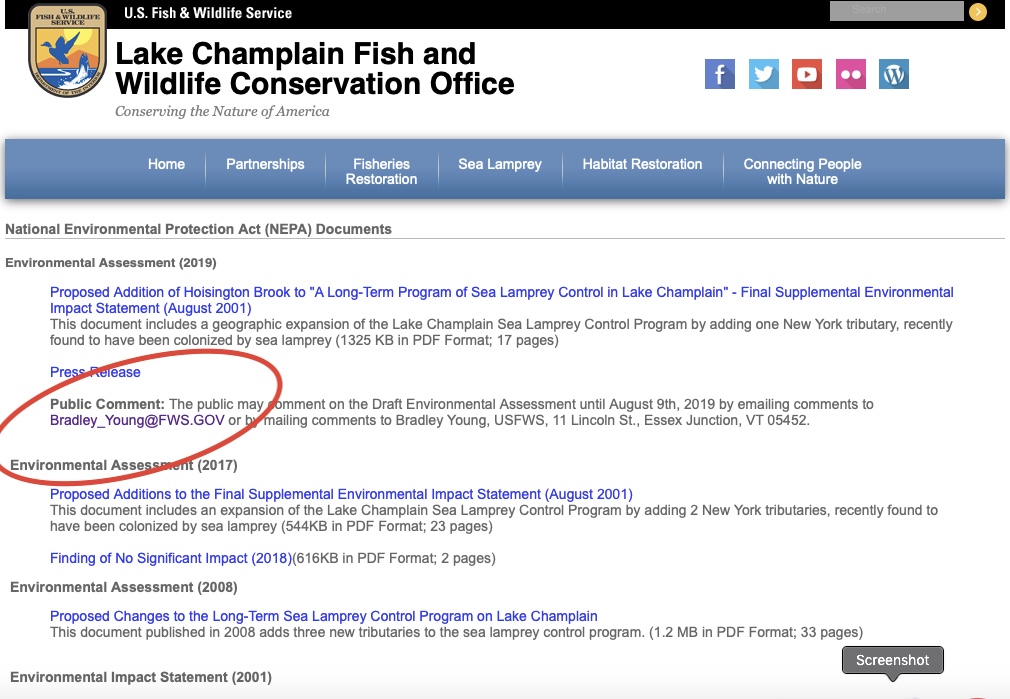 Catch and serve with lemon.
Gerry
Posts: 10
Joined: Thu Nov 17, 2016 11:15 pm
Species: Sea Lamprey
Guys, thanks for letting me know about the email malfunction on the website. I was able to edit the webpage this morning (7/9/19) and get that error corrected. It's all set now and functioning as intended. Appreciate everyone's interest and comments.
~Brad Young~
Great news!
We now need to focus on eradicating fleas.
Posts: 104
Joined: Wed Aug 28, 2013 3:00 pm
Species: Trout
Location: Otterburn Park, Qc, Canada
Interest Fact:
During this rearing period in fresh water, a myriad of other animals feed on juvenile lampreys including river otters and many bird species.
A friend recently posted a picture of a river otter in Lake Ontario waters, maybe river otters should be re-introduced to lake Champlain and its tributaries.


---
Who is online
Users browsing this forum: No registered users and 1 guest