Posts: 66
Joined: Mon Feb 20, 2012 11:12 am
Species: salmon
Thanks.... I found the same issue with the livewell/icebox. I fill it with a bucket and have a floating bubbler to keep my fish alive. Despite the livewell I have major complaints. I plan on putting a kicker on in the spring as I like knowing I have a backup motor.
I put a 9 hp Suzuki kicker on mine with an adjustable spring loaded kicker mount. It works great and I have a tie rod on the back of both motors. I am adding a Raymarine Autopilot this month.

Michael
Posts: 28
Joined: Mon Apr 16, 2018 9:28 am
Species: Trout/salmon
My little 18' key west. Gets the job done. For now...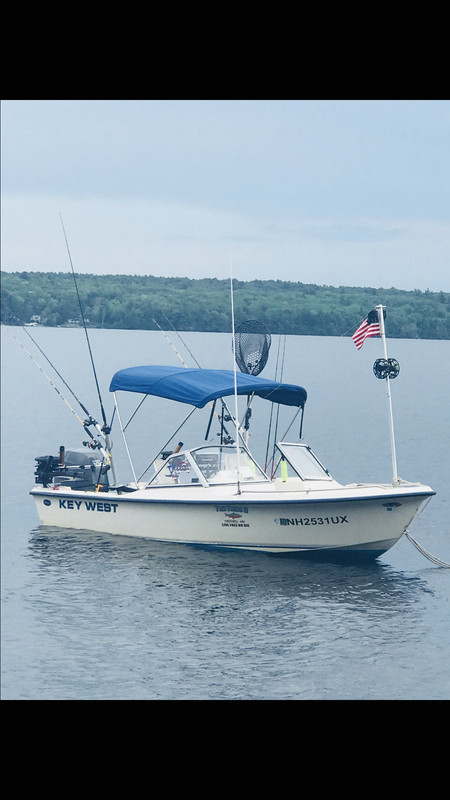 Posts: 71
Joined: Sat Oct 15, 2011 7:57 pm
Species: SALMON
Location: Western Massachusetts
Looks pretty well rigged. Should be all you need for Champlain.
1999 Starcraft Superfisherman 196 "High Hopes Too"
Posts: 12
Joined: Fri Oct 19, 2018 7:07 pm
Species: Lake Trout, Landlocked Salmon
Location: Lunenburg, MA
2019 Lund 1800 Tyee with a Mercury 150 Pro XS, I love going out after lake trout and salmon on lake Champlain!!
Attachments

69427825_2283209518659400_6465086791744487424_n.jpg (156.68 KiB) Viewed 72 times
---
Who is online
Users browsing this forum: No registered users and 1 guest