Posts: 73
Joined: Mon Feb 20, 2012 11:12 am
Species: salmon
Thanks.... I found the same issue with the livewell/icebox. I fill it with a bucket and have a floating bubbler to keep my fish alive. Despite the livewell I have major complaints. I plan on putting a kicker on in the spring as I like knowing I have a backup motor.
I put a 9 hp Suzuki kicker on mine with an adjustable spring loaded kicker mount. It works great and I have a tie rod on the back of both motors. I am adding a Raymarine Autopilot this month.

Michael
Posts: 32
Joined: Mon Apr 16, 2018 9:28 am
Species: Trout/salmon
My little 18' key west. Gets the job done. For now...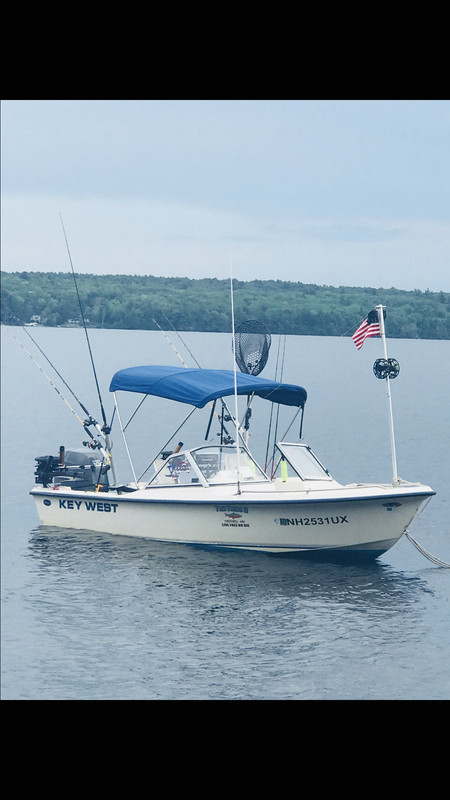 Posts: 72
Joined: Sat Oct 15, 2011 7:57 pm
Species: SALMON
Location: Western Massachusetts
Looks pretty well rigged. Should be all you need for Champlain.
1999 Starcraft Superfisherman 196 "High Hopes Too"
Posts: 12
Joined: Fri Oct 19, 2018 7:07 pm
Species: Lake Trout, Landlocked Salmon
Location: Lunenburg, MA
2019 Lund 1800 Tyee with a Mercury 150 Pro XS, I love going out after lake trout and salmon on lake Champlain!!
Attachments

69427825_2283209518659400_6465086791744487424_n.jpg (156.68 KiB) Viewed 3000 times
Posts: 73
Joined: Mon Feb 20, 2012 11:12 am
Species: salmon
I upgraded my boat yet again... decided to go a little newer and a little bit bigger but not to much. Went with a 2007 Bayliner trophy pro. It's a foot wider and a foot longer than my old trophy and powered by a Mercury Verado 135 four stoke with smart gauges which will make it go slow enough to troll with. Doing some slight adjustments for adding gear but hope to be done by the end of this coming week so I can start happening the salmon and lake trout and break this boat in.
Attachments

62F8215F-627E-4AAF-B9F2-DBE8FFC18EB1.png (295.15 KiB) Viewed 1777 times
Site Admin
Posts: 4582
Joined: Sun Aug 28, 2011 7:27 pm
Species: Salmon, steelhead, brown trout
Location: Fletcher, Vt
That Trophy upgrade will keep ya on the lake even when it's bumpy... and with an outboard... those are kinda hard to find with an outboard setup... Nice find!
Matt B
Posts: 63
Joined: Mon Apr 15, 2019 8:50 pm
Species: Anything we can catch
Location: Vergennes
I really like your canvas. My little trophy 2002 used to have canvas like that back in Clinton's first term as president. I'd like to replace it someday, even though the design of the boat breaks the wind pretty well without it. How do the smart gauges slow your big motor down enough to troll?

Jack
Posts: 73
Joined: Mon Feb 20, 2012 11:12 am
Species: salmon
Hopefully it will turn into an awesome trolling machine.. I loved my 2004 1802 trophy but wanted just a wee bit more space but stay small enough to hit some inland lakes as well. I like the canvas but might see if I can have some zipper windows put in the front as the morning dew makes it hard to see when I head out after sleeping over night on the boat.
Posts: 63
Joined: Mon Apr 15, 2019 8:50 pm
Species: Anything we can catch
Location: Vergennes
Yeah, I kind of wish mine had wipers. You are looking through the glass on my boat when sitting at least. Maybe I'm hunching down though? I do a lot in life being 6'4"

There's a 2000 Honda 9.9 four stroke on the back of this one, I really like being able to go as slow as I want. My other boat idles about 2 mph no wind, no current. Which is sometimes perfect, sometimes too fast depending on wind and stuff. Tomorrow the last set of overpriced remote controls in the country are supposed to be showing up in the mail for that old Honda.. Right now I'm using the kids "little fAster, no slower, no faster," and so on.

What are you going to run for riggers and other fishing gear?
That's my trophy. It's got a 1993 force 150 on it that acts like it hasn't been started in 10 years every single in the water cold start which I hate, but I love everything else about the boat.

Jack
---
Who is online
Users browsing this forum: No registered users and 1 guest