Posts: 646
Joined: Sun Aug 28, 2011 10:00 pm
Species: Salmo Salar Sebago
Location: Burlington
Fish are returning in good numbers to the Hatchery Brook trap. VTFG personnel were working yesterday collecting data from the returning Salmon and Browns with good results
I received this today from Nick Staats who is presently operating the Winooski Lift:
Salmon have showed up in big numbers at the
Grand Isle Hatchery Brook (348 salmon) and the Lamoille River (37 salmon) has seen an
increase also. The hatchery has been collecting salmon for egg-take later this fall.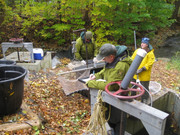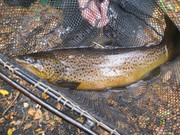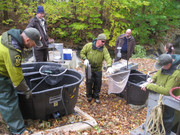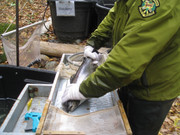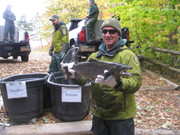 Bill
"POINTER"
Posts: 3188
Joined: Sun Aug 28, 2011 12:58 pm
Posts: 3545
Joined: Mon Aug 29, 2011 12:26 pm
Species: whatever crazy enough to bite
Location: Montreal
That's good news. Thanks for sharing.
Gecha
(Gerry North of the Border)
The tally at the trap is currently at about 650 fish with more to go. This is good news.
Posts: 295
Joined: Sun Oct 13, 2013 4:42 pm
Species: Salmon Lakers, warm if needed
Location: Grand Isle
Stopped by there today. The down stream pool had a good number of fish as well as a surprise visitor. A blue heron was positioned on the concrete pathway under the bridge. There were several dead salmon in the pool that I suspect had holes poked in them from this unlicensed fisherman. Upstream near the trap another heron was fishing the shallow pools I guess these guys can claim native rights. They have been here longer than we have.
Posts: 295
Joined: Sun Oct 13, 2013 4:42 pm
Species: Salmon Lakers, warm if needed
Location: Grand Isle
I guess I am probably wrong here blaming the herons. Poaching in the pool news was probably the real reason fish had holes in them
---
Who is online
Users browsing this forum: No registered users and 2 guests