Myself, Popster, Innkeeper and a rep from Vt TU were treated to a complete 2hr tour of the Grand Isle hatchery yesterday. Everything from the pump house which takes in the water from the lake to the finished product of raceways full of fish. One of the unique things about the hatchery is it allows them to draw water in from deep water and shallow water and mix it for optimum temps for fish growth. The water is also heated in the winter. This makes it the envy of other fish hatcheries since most are reliant on groundwater and hampered growth with high temps during summer. The growth rates here are incredible and the quality of smolts are outstanding. Kevin Kelsey Fish culture specialist has taken many parts of this process to another level with innovation and cost cutting procedures. This man not only likes what he does he is passionate about it. Just an exceptional guy. Of particular interest is the hatchery walleye program. It is cutting edge and the envy of other hatchery programs. They have close to doubled survival rates, with innovation and specialized foods. These fish are extremely difficult to raise. Theres about a 90% chance that the walleye you caught today started life in this hatchery. Kevin has made presentations in many parts of the US and France interested in the new methods they have developed at the hatchery. A shout out also goes to Ben Rooks the engineer at the hatchery who has fabricated much of the equipment for the innovations. Rest assured these folks are delivering a top quality product for the future of fishing in Lake Champlain. Thanks again for the tour. Hopefully Popster will be posting a few pics shortly
Posts: 639
Joined: Sun Aug 28, 2011 10:00 pm
Species: Salmo Salar Sebago
Location: Burlington
Such a treat to have Kevin Kelsey from the Ed Weed Fish Culture Station (Grand Isle Hatchery) give us the backstage tour and show us the entire operation involved in raising Rainbow, Steelhead, Lake, Brown Trout, Landlocked Salmon & Walleye for our Champlain fishery. Absolutely fascinating experience, which I highly recommend.
This facility is recognized both nationally and internationally as one of the state of the art hatcheries in the world, utilizing innovative and cost saving techniques, with amazing results, thanks to Kevin, Ben Rooks and the rest of the staff.
Here's a few photos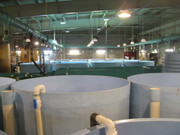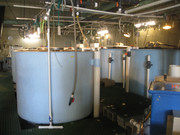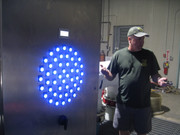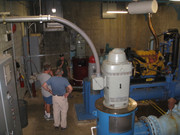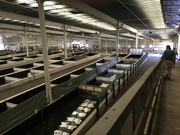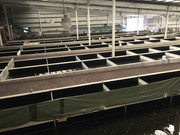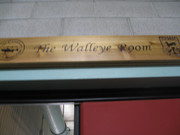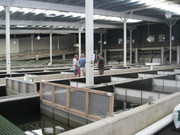 Bill
"POINTER"
Nice stuff you guys! Did you find out why there is a lack of salmon in the northern Broad Lake?
awsome post and pics . are all the walleyes stocked in champlain or else where to from grand isle
CHawk Kevin is quite clear about the scope of his job. To just raise them. I think you would have to ask a biologist your question. Fishy1 I believe they all are stocked in Champlain
Posts: 137
Joined: Mon Oct 17, 2011 8:24 am
Species: Salmonids
Fishy1 to answer your question (and I'm sure many others) the walleye that are raised at the EWFCS are stocked right back into Champlain. There is a 3 year rotation on the river system in which the brood stock is collected from. 1 year Poultney, 1 year Winooski, and 1 year Mississquoi. The fish are hatched, and either raised in the intensive culture systems at Ed weed, or in one of the 4 Walleye associations ponds. The intensive recirc culture system that is in Grand Isle pumps raises fish with success that is the best in the world for raising walleye to fingerling stage. Walleye are always known for being slow growers, but when they are first hatched they grow like CRAZY!!! The fish coming out of the system in Grand Isle are approaching a 2" average, and being almost fully scaled in 35 days post hatch. To put it in perspective, it takes a trout or salmon 2-4 months to reach 2" under hatchery settings.
Once they have reached the right size these fish are stocked right back into the river system that they came from. Mississquoi fish go into the river and scattered through out the Mississquoi Bay, Winooski fish go back into the river, and Poultney fish go back into the river, and scattered through the southern end of the lake.
Site Admin
Posts: 4471
Joined: Sun Aug 28, 2011 7:27 pm
Species: Salmon, steelhead, brown trout
Location: Fletcher, Vt
Wow that is very cool information!!!! Thanks for posting...
Matt B
that is great news to hear and did not know this. i been wondering about the upswing in walleyes thanks to vt looks like its even going to get better.
Posts: 137
Joined: Mon Oct 17, 2011 8:24 am
Species: Salmonids
Thanks to the cooperative between VTFWD and LCWA fishing is only going to get better for walleye. Some of the innovations in the intensive culture system are thought up of by the staff at Ed Weed, and
are helped being payed for by the LCWA funds and VTFWD. Every raffle ticket bought, or membership paid for helps pay for the improvement of the fishery! It used to be guys would catch pretty much a fish that was 5 pounder and bigger while targeting these fish. Now there's some fish that are being caught under the 18" minimum (just like the shakers in the salmon world) translates to a better fishery in the future
Posts: 137
Joined: Mon Oct 17, 2011 8:24 am
Species: Salmonids
The only time that walleye have been stocked other than the areas they came from was in the 90's when the chittenden reservoir program was started. 6 years with a small percentage of the fingerlings going into the reservoir. Still the 3 year rotation on the brood rivers (2 poultney, 2 winooski, 2 mississquoi) to minimize inbreeding. Now the brood is collected from the reservoir in the spring every other year by biologists, and are grown at the Bald Hill facility near St. Johnsbury.
been wondering why otter creek is not on that list for stocking walleyes i remember they used to.
Very cool!

Hope they will start collecting and stocking Lamoille too.
Posts: 29
Joined: Mon Jul 31, 2017 2:04 pm
Species: Anything that bites
Location: South Burlington
From what I've heard, they consider the Lamoille a self sustaining (walleye) river and thus don't need to stock it. So unfortunately that may never happen.
---
Who is online
Users browsing this forum: No registered users and 2 guests