hope to hookup a nice shark this summer my 16/0 senator and unlimited class fenwick. granddaughter just for scale lol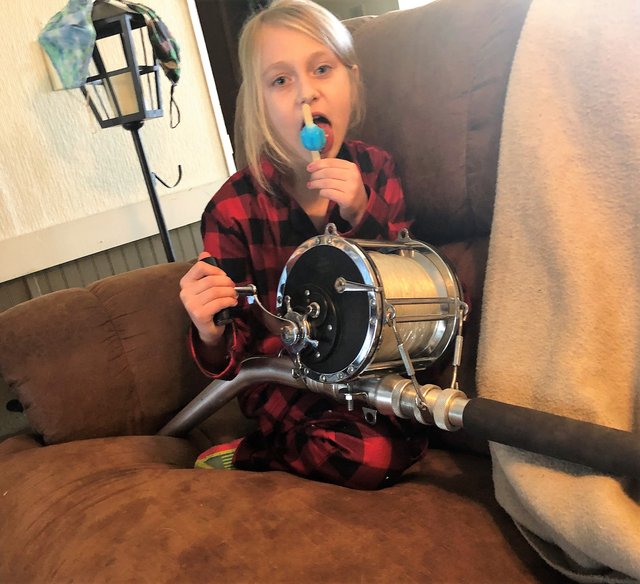 ---
Posts: 4034
Joined: Mon Aug 29, 2011 12:26 pm
Species: whatever crazy enough to bite
Tat's A nice rig.
Plenty of fun when the line goes tight.
Gecha
(Gerry North of the Border)
---
Many years ago (circa late 70's), I spent a day with my grandfather and Dad fishing for bluefish out of Ocean City, NJ. Dad's not a big angler, but he has supported my passion and shared in several trips starting in 2d grade. This trip was special, as his father was ageing, and it was 3 generations. His father shared my passion. We trolled and caught several blues, and then a hooked blue was inhaled by a big hammerhead. After almost 2 hours, I got the hammerhead to the boat on a Penn Senator. Crew grabbed a Bang Stick and put several loads into its head before cutting the line. I was young, and it's not the way things are handled now, but I still cherish the memory (with some regret). I've caught hundreds on blues since, a few makos, and a few hammers, mostly on fly and released. In the Keys 2 summers ago we had several big sharks bought to the boat. Good luck with the sharks! They pull HARD!
---
wow great story, to bad you couldnt have saved the jaws att least. i lived in bonita springs for 5 years in the early eightys. did some shark fishing off newpass and big carlos bridges but never had any luck. thinking of a charter off maine.
---
Nice rig Matt.
I use to fish out of Newburyport MA and Glouchester, MA back in the early 90s for a couple years on my 24' for Bluefin on almost the same rig with a Pen 12/0. I've since sold both rods, but, now move to Southern ME and am fishing Stripers, Cod, Haddock and go to Sebago for Salmon and Lakers.
Looks like you will have a great time with that rig.
Where are you going out of?

Michael
---