Bit of a long one I guess... Part I and II below...
Had a great year. Bow started with me helping Mac drag a nice VT 6 point out opening afternoon. He's posted that story of the 'burb buck.
I've been going down to PA with Mac for the last 4 years and many years of VT deer hunting. Mac hunted down in PA with his Dad for many years on a piece of property that his Dad bought 40 years ago to hunt. After his Dad passed, we've started a couple of new traditions over the last 4 years. Mostly helping Mac drag a beautiful 8 point, seeing Joel's cousin get his first buck and a whole lot of laughter. Me? I've come up empty the last 3 trips but have always been seeing deer and in the mix.
Last year I took my 79 yo Dad down for the muzzleloader / bow overlap portion of the season. Easier walking for him and a bit more favorable weather wise that time of year. Lots of coordination and planning to make it work. Mac and I put Dad on deer but nothing where we had a decent shot. Still, a great trip.
This year we decided to up the game. We'd put 3 generation of us in the woods and make some memories.
Part I
My bother, who first introduced me to bird hunting as a kid, hasn't hunted in years due to raising a family and work. My 21yo nephew has taken to hunting but since he is focused on his studies he can get out much. I've taken him out and showed him some of the ropes and can't wait to do it more. My Dad is a Korean war vet and has used his army trained expert marksman skills to hang some nice deer over the years. Mostly while living in Northern Michigan where he and mom started our family post-war. Workload and later Dad's health has robbed him of continuing to hunt later in life which makes getting him out fishing and hunting all the more special, but challenging as well. After our trial run last year Mac extended the invite to head down again to our whole clan and I put the word out to my brother. It looked like it would be just Dad, bro and I as my nephew was tied up in college. The plan would be that we hit the overlap, bow and muzzleloader. My nephew struck a bargain with one of his professors ("I'll let you out of class but if you get a deer I want some venison") and he was able to join the trip.
Mac and I picked up my Dad and we headed down to set our stands. We hung my stand in the spot I sat last year. Lots of buck sign around but only saw 3 does out of it last year. Still, it is a good spot and we were convinced it would be an even better bow spot. I wanted to put my nephew there with his bow. We set up a ground blind for my Dad and Brother. Mac had a spot set as well. Joel's cousin would be set down across the road on another piece.
Everyone rolled in later that night and in the morning we put my nephew in his stand, brother and Dad in the blond and I headed off toward the public land. PA has protected quite a bit of land for public hunting and it is really nice. Within 30 minutes I get a text form my Nephew, a large black bear came booking through right under him. Well at least we are seeing some wildlife! Opening morning we all saw deer. I had a doe jump on my way in. Later that night my brother got a shot at a doe with his loader but missed. Mostly, I think, because he was distracted by a 6 point that he couldn't shoot (loader is doe only during that time). Mac took my nephew to a spot and had 3 deer come in but nothing he could put an arrow in.
The next day things got exciting with everyone seeing deer, Joel and his cousin each got does with their loaders. The next morning Joel tubes a 7 point that was cavorting with a bigger 8. I help drag the 7 point and my nephew has 3 deer come into him. 2 does and a buck. When I get to him he is vibrating with excitement over the buck. he counted 3 on one side but there "was a lot more!". We packed everything out and another set of memories in the books.
Another trip and my arms are hurting from dragging all of Macs deer over the years. Still my face hurts from laughing with friends and family over the few days we were able to put it together.
Part II
Mac, his cousin and I headed back down for our annual rifle opener trip. Not a lot of sign on the land but enough to know it could happen if the stars align. Opening morning found me sitting in the same spot we put my nephew in during Part I and I sat from 5:50am to 1:30 and saw one doe. I moved in the afternoon to a stand I hung on the public land and had a doe and skipper come in but no shooters over the 3-4 hour sit.
The next morning things started out much the same. 7:30am a doe and skipper walked into my zone and as they walked through some scrub and behind a roll-over feature down below I was wishing I would have put more thought into this stand as a rifle stand. All the shots were set up for bow. Oh well, just need the stars to align. I get Mac on the horn and say "where the heck are all the bucks" and the secret to his hunting prowess gets revealed. He hits me back with what has to be the best buck call I have ever heard. I took note and will use this technique for years to come. Mac responds with "Here Bucky Bucky Bucky" and 5 minutes later in walks, what I think, was the buck that my nephew saw during bow. I saw the rack as he passed from behind the ridge and he stopped directly in line with several successively paced hardwoods that all lined up to hide him from my view. It gave me the opportunity to get turned in my stand and I proceeded to chant my traditional mantra, "Matt, don't 'F' this up!". I braced myself against the tree for a 125+ yd shot that would thread the gap in the crap. BIt longer then I had given this particular shooting lane any attention. I looked left and it was going to be my only shot because if he followed the doe and skipper I would not get another chance due to that roll-over. "Matt, Don't F this up".
He stepped out from behind the cover and I pulled the trigger and the 700 30-06 bolt barked out a Barnes bullet. He jumped and disappeared behind the rollover. I chambered another and as he crossed the small window by the logging road I tried to hit him again but missed. He was headed down hill and toward a piece of posted land. "Who Shot?" came across my phone text and I let Nunz and Mac know I shot. I glassed for blood and thought I saw a bit but the binos showed that lane wasn't as clear as I thought through the scope... My heart sank.
I got down and went to the shot. I had blood but the hair had a bit of white to it so I knew I hit low. I had a good hold that I thought even I couldn't F up so I'm wonderin if I hit some of the crap in my lane. I had good blood so I backed up to my stand and took off my harness and shed a layer. I walked down and started to follow the trail. he crossed a section of woods that the sun had gotten to and melted off the snow. In the wet leaves I ended up confusing the track for another that turned left. I followed the track a bit and wondered how he stopped bleeding... I backed up and found the blood and the proper track. he was stumbling down a steep hill but headed for the posted property. I took a few more steps and found a big pool of blood. Just as that registered with me he kicked up and went 50 yds in thick pines and a doe was with him. I dropped to a knee and tried to get a shot. He wasn't moving too well and did a few circles and laid back down. Or at least I think it is him. I glass blood on the snow near him but I do not have a clear view of the deer. I have the wind in my face so I rock back onto my pack and start to have a little standoff. No safe shot at him for sure. He is maybe 30 yds from posted land so I don't want to pressure him. Of course, about this time I hear 4 wheelers idling around on the neighboring property. The doe (I later figured out) decided to walk away and he stood on wobbly legs and started walking to the posted. I am thinking now that I sure wish this one would have dropped straight away like others in my past but I am worried I am going to lose him. I stood up, kept the wind in my face and walked to the other side of the pines. There he was, looking straight back at me about 3 steps from the posted trees. He was behind a creek bank and all I could see was the neck up. I got a good look at the rack and could taste the tenderloins. 75 yd neck shot piled him up right there. I had taken out one ling on my first shot. If I wouldn't have kicked him up he would have died there, but with the posted land etc it changed my game a bit. All-in-all I hastened the end so he didn't suffer more.
11 point (one split brow tine). BIggest deer I have ever seen. Biggest buck I have ever gotten. We de-boned our 3rd PA deer of the season that night and laughed about each day and hour of our hunts. In the end, I didn't F it up and the tenderloins did taste damn good. So did the bourbon.
Dad in the blind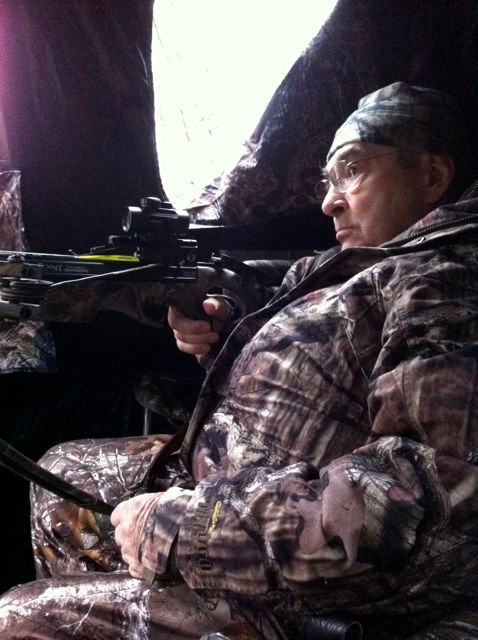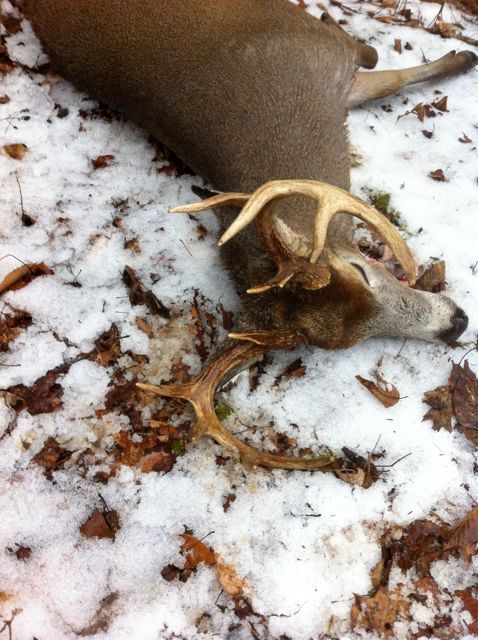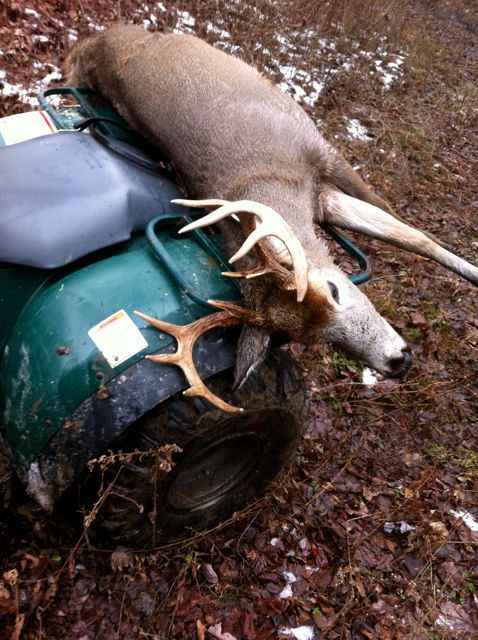 The cuttin' room! Everyone pitching in back in VT
-Matt