Well the 2013 season has gone by with countless hours spent sitting in the woods. It was an unusually slow year this year where I hunt in NY. Didn't see as many big bucks as in the past. I was cursed by spike horns for the majority of the seasons. No matter where I hunted I was graced with spikes. I could killed the same 3 spikes 40 times over, but I didn't. Even in VT the only buck I saw was a spike chasing a doe!! I think I have a thousand pics of them.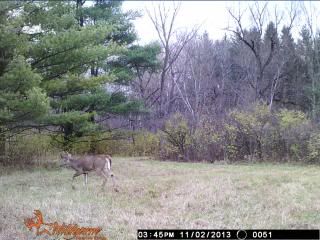 This particular one really is a little dummy.
The first-second week of November during archery I had real close encounters with a big 8 pt. What a deer. Big narrow, tall tines, must have had 8in brows. I had him the closest at 50 yards behind a messy bunch of brush and just couldn't get a clean shot at him. I tried everything. I saw him every day for 5 days between 10am and 3pm. He didn't respond to 3 different brands of grunts… bleats… snort wheezes, rattle antlers, scents, doe decoy or buck decoy or both of them! I lugged those decoys around for days! I almost had him one pm. I saw him come out from the top of the field about 100 yards away. I grunted and grunted until he acknowledged the presence. As he looked my way he saw my buck and doe setup. That got his attention. He began to march down that field, 80 yards, 60 yards, then he stopped and looked into the woods. Here came lone missy doe. He looked at her, looked at my setup, and took right after her and was like screw a fight, I'll go get my own doe! So bummed.
Then another time, I had the lone buck decoy out along a travel corridor. It was about 1pm and I rattled and grunted a bit. About 5 min later I heard crunch crunch crunch coming down the corridor. I see movement, I get ready, then the figure appears. It's the spike! Stupid spike. He came in to about 30 yards and stared at that buck decoy for an eternity. Stomped his foot, grunted then ran like crazy. Well the next morning I set the same decoy up in the same spot. I gave a few grunts then heard crunch crunch crunch come down off the hill. I got ready as the steps closed the distance, then out pops that spike again! Well let me tell you, he ran down to that decoy and greeted him like it was his long lost buddy. He milled around him for a bit, then he walked over to 40 yards and bedded down in a ball. The little brat. I had a unicorn spike bed down by me during rifle season as well.
Then one day I almost hit the beauty at 10:30am. Of course I was caught unprepared. He stared at me for a minute or so with the look like 'how dare you try to hit me'. How dare I sit and stare so unprepared!
I saw a huge buck opening day of rifle season. It was 1:30pm. I was too busy staring at that spike that was feeding in the field. I heard a snap behind me and before I knew what was going on I saw a huge white rack headed up the knoll! OMG!
How long has he been there?!!!! He must have walked past all my clear shooting lanes! Stupid spike! Foiled my attention! I turn for my gun, I put it up, he walks behind a tree at the top of the knoll, I aim gun for other side of tree, and he's gone. Where did he go? He went over the knoll! Gone! Darn! Noooooooo!!!!!!! Stupid spike! I blame him!
In hindsight, I should have climbed out of my stand and run after him!!!!!!! Maybe next time. Oh wait, there will be no next time for this scenario to unfold again.
Ate buck tag soup for VT and NY rifle seasons. I saw several does (in NY), but passed them all with the hopes that a good buck would make an appearance with them. One never did.
As the late ml/bow season winded down to its final days with a fresh foot of snow ahead and me having almost no vacation time left, I took a 3 day weekend to play in the pending snow and the cold. I sat in the wrong place as the storm moved in and the wind began to blow and the snow fell. At 4pm I got a glimpse of a big buck hoofing it through the woods on the other side of the other ridge. Definitely out of muzzleloader range.
The deer sat during the storm and the day after the storm, along with them, myself in the woods sitting and waiting… freezing with my muzzleloader on my lap after waddling through the snow. I seem to have found myself in this position before. Those spikes were looking awfully temping at this point.
Well on Monday (the day before the close of the So. Zone NY season) I wasn't fooling around anymore. I got a new electric meat grinder and have been dying to use it. We had a stiff true west wind. A good west wind is a wind that makes my spots prime to wander into undetected. I knew where some does were yarded up from the snow and snuck on in. A fat doe was being chased by the scrappiest of tiny bucks I have ever seen. I passed on him to grow and took the big doe. She was 30 yards upwind of me. Had no idea I was there. I texted Ben and I get a text back 'no horns?' I said 'no',
he said 'there is always next year honey' I replied 'day not over yet'.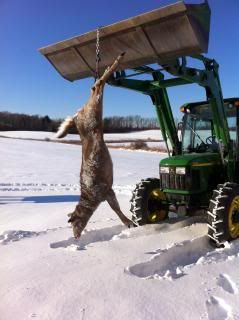 I was more than happy with another doe. With a muzzleloader buck tag still in my pocket and a beautiful sunny cold day, I decided to enjoy my last day and trudge through the snow back to a spot I haven't hunted much since bow season. There were all sorts of tracks. There's a few places that I knew would be holding deer. Even more so now with the snow and the cold and the food sources so close by. I blew 2 does off the side of the hill as I crested the knoll (bummer) and I carefully chose my spot to sit downwind of the pines. There I sat in my sunglasses (man that sun was bright!) and arctic armor suit (man was it cold!) thinking about the upcoming ice fishing season and reflecting on my rapidly ending hunting season. Then, at 3:40pm a deer just appears from a group of pines
and works his way towards me browsing down the hill. I stared at it and was like BUCK!!!!
I glassed it and saw points! OMG!
Shooter!
Took him by surprise at 50 yards. A fat 8pt. Persevered and stuck it out for this guy. Could this be my reward for good karma letting all those spikes walk!?? Perhaps. Really luck and right place at the right time. Unexpected nonetheless.
I have not seen one buck (other than those spikes) that I had on my trail cams this season and I didn't really have that many good bucks on cam at all! Here's some of the better quality pics of some I hoped to see.
A nice 8
A nice 10
A 5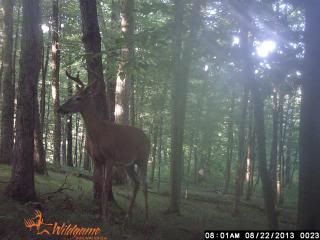 An 8 with a tumor or old wound on his neck
A nice 6
The same nice 6 about a mile from where the other pic was taken. A real nice 9. They were around, that's for sure, but I do know there's an awful lot of spikes that are going to be a lot bigger next year!
That's all for now. Good luck on the ice!
Sorry for the odd pic placements. Im trying to figure out the best way to put pics in..... Photobucket vs Attachment...