I think Im starting to believe in a thing called karma.
When I was out hunting the first week I had a huge doe toting a skipper in the kill zone. The thought passed my mind to take the old girl, but as I watched the old wise doe teach her skipper about how to eat mushrooms (or not) off the forest floor and nuzzle on each other I had a change of heart. Ive done it before and didn't really feel very good about it and had a few real awful experiences with it. So.... rightly or wrongly... I made a vow this year on my quest to fill as many dmp permits as I am allowed in NY to not ever... take a doe with her skippers ever again in the early season. I mean, later on in the season all the deer are in total chaos so who knows what does have skippers or not.. its fair game.. but that's besides the point. Oh.. for the record... Im not looking to start a war or anything since I dont care if people do it or not, Im just saying that this year I choose not to... thats all
So... anyways!!!! I let several does and skips pass me by on my first outing a few weeks ago as I waited for the big lone fattie and she came right along with a group of granny does and 1.5yo's.
So, Last weekend was a repeat. Kinda. I had a nice family group under me. 2 big fat does with a mess of skippers and a few 1.5 yo does. I decided to take one of the tender 1.5yo does. 10 yards. It was a gimme shot.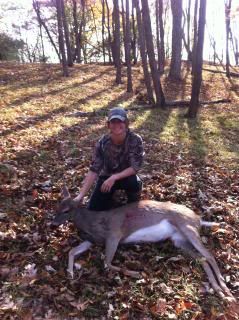 So, I kept on hunting later in the day and had my spike buddy under me again that I keep on seeing (sorry.. not wasting my NY tag on a spike). Hes a dummy. Hes going to get himself shot because the neighbors aren't as nice as I am. Then another doe with skippers came in and some yearlings. Im still filling the doe tags. So I shot the 1.5yo
with a camera instead
I'm after the big boys now! Lets see if i can become a true karma believer for letting that spike walk?